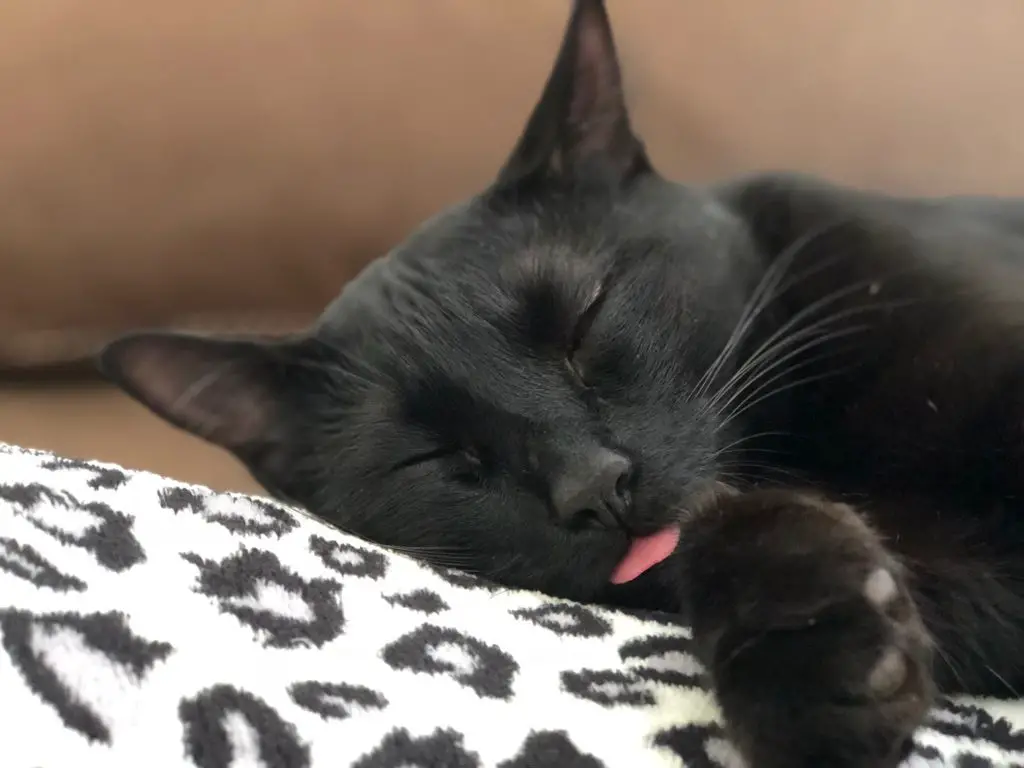 When it comes to naming a black cat some names spring to mind effortlessly.
Names like Shadow, Bagheera, Ebony, Salem, and so on…
When it came to naming our black cat we called him Coco and it was because of the color of his fur. He wasn't black when we took him in he was brown!
We live in the extremely sunny Canary Islands and Coco spent the first few months of kitten life outside in the sun.
The sun faded the pigment in his fur and when it came to naming him, the first name I thought of was Coco because his fur reminded me of a coconut shell.
He's a house cat now and his fur has a jet black appearance now. His coat is amazing, so soft and silky.
I thought it would be good to share a bit of a back story as to how we named our black cat.
I'm not alone in this as the black cat community is very happy to tell us how they named their cats too.
The Community
Here are a few interesting names plucked from the My Mini Panther Facebook page:
"Mine is Lizzie Borden. My son has started calling her Lizard and sometimes she responds to that so I guess it just depends on who is speaking." – Niki H
"Our Marli's name was inspired from a Bob Marley song" Kelly S
"We have a beautiful 4 month old kitten named Sebastian Thomas, he is soooooooo Awesome!" – Sandra M
"Our first black cats name was Ebony, and our girl now is Harley, short for Harlequin. She's my shiny black Harley!" – Ed W
"Our 1st black cat was Moocher Babe, 2nd one was Mui Cha Cha & our 3rd was Little Miss Wild Thing she live to be 22." Carol T
"My black cat is a girl named Kiera which means "dark one" in Gaelic. I've also had one named Midnight and one named Lucifer, both males." – Beverly H
"I had a minature Panther called – Bee Bop Deluxe! Often shortened to "Bee Bop" or "Bop" or just "Deluxe". 😂 He was a lovely little Boy." – Robin J
"My baby's name is Neo. Quirky just like him" – Nikki T
"Im from Ny so mine are bronx and brooklyn" Erina W
"Boo was a feral cat who finally made the transition to a curl on on my lap when it suited him companion." – Michael G
"Mine is Binx. My daughter named him after the cat in the movie Hocas Pocus." – Jere H
"My little panther's name is Ozzie little prince of darkness ❤️" – Carmen T
My Final Thoughts
Wow! There are some great and imaginative names there.
I find it fascinating that we do the human thing of naming our cats and our cats actually respond to their name.
When I call "Coco", most of the time he turns and looks straight into my eyes. It amazes me every time.
Names are so special, it's an identifier and also something to be remembered by.
I can't imagine Coco being called anything other than Coco and I'm sure he can't either…
The following two tabs change content below.
Lee Harris
NOTE: Some of the content on this website has been created with the use of artificial intelligence (AI). I'm a Brit living in the sunny Canary Islands with my beautiful wife and my wonderful black cat called Coco. I love to blog, build businesses, look after my body, and enjoy nature...
Latest posts by Lee Harris (see all)