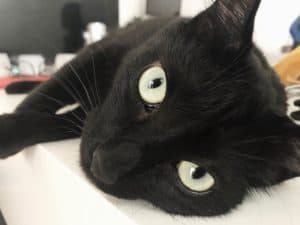 My name is Lee Harris and I run the My Mini Panther brand. I am British but I now live on the sun-drenched holiday island of Gran Canaria in the middle of the Atlantic Ocean. I live in the Canary Islands because I met the love of my life, Yurena a native of the island whilst visiting friends here. Our relationship blossomed so I decided to stay (which is the short version of the story).
The Canary Islands are known for its vast numbers of stray cats. When visiting the tourist areas of the islands you will see many stray cats around the hotels and beach promenades. Many of these cats are black.
When I first moved to Gran Canaria we lived in the touristy parts in the south but we decided to move away from the tourism and head further north. We moved into a small town on the south-east of the island and quickly discovered that there was a lot of cats living on the streets in this area. Yurena is cat crazy and as each day passed I became that way too. We fed the local cats daily and would often let a few into our home but they wouldn't want to stay in for very long.
To cut a long story short this is how Coco came into our lives. He's a black American Shorthair with a huge character! We fed him from a very young age (3-4 months) and he would not move from under my car that was parked outside the house. Naturally, the three of us formed a family…
The following two tabs change content below.
Lee Harris
NOTE: Some of the content on this website has been created with the use of artificial intelligence (AI). I'm a Brit living in the sunny Canary Islands with my beautiful wife and my wonderful black cat called Coco. I love to blog, build businesses, look after my body, and enjoy nature...
Latest posts by Lee Harris (see all)