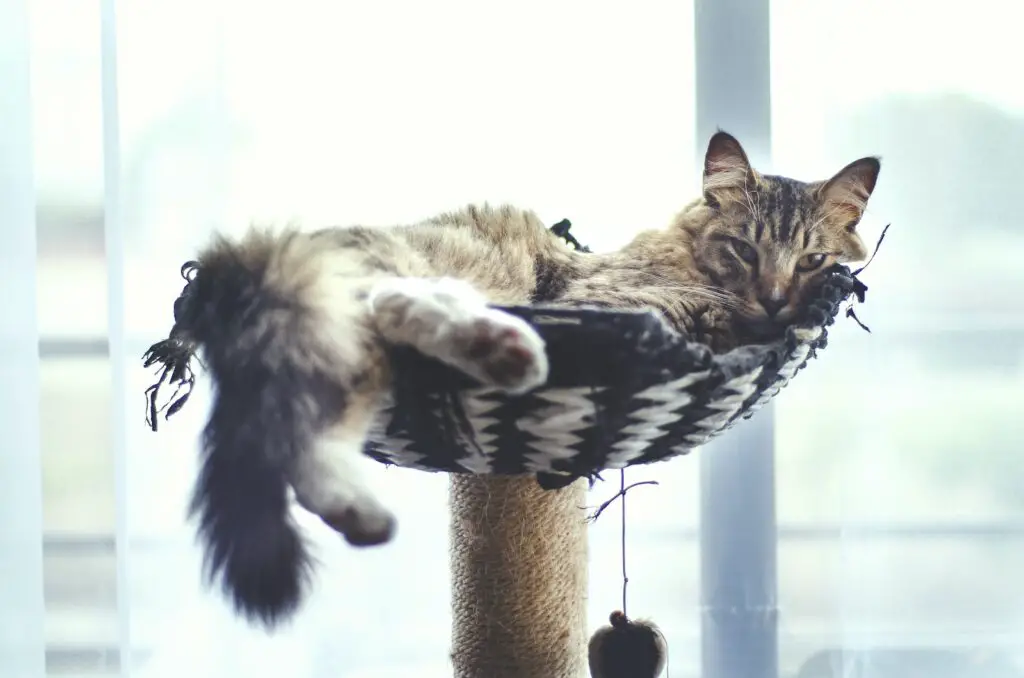 In 1988, a couple purchased a house that came with two feral cats. Little did they know, this was the beginning of a lifelong love affair with cats that would transform their home into a feline paradise.
The couple's journey into the world of cats began with a tragedy. One of their outdoor cats was hit by a car and killed.
The second cat, after surviving a similar accident, was brought indoors for safety. To keep her company, the couple adopted two more cats from a shelter. This was the start of an ever-growing family of rescue cats that would eventually number 15.
The couple's home is no ordinary dwelling. It's a cat's dream come true, with catwalks, tunnels, bridges, and even a koi pond for the cats to enjoy.
The first catwalk was built in 1995, and since then, the couple has spent around $40,000 to $50,000 on these unique features.
The catwalks are not just for the cats, but also serve as an architectural interest for the couple. They come in various shapes and colors, with some tunnels even featuring faces and teeth that scratch the cats' backs as they pass through.
Despite having 15 cats, the house never feels overcrowded. The cats have their own spaces and never assemble in one group. They bring life to the house, and their purring is a source of relaxation for the couple.
The cats love watching the fish in the koi pond and even dip their paws in the water, although they've never eaten a fish.
Maintaining a clean house with so many cats is a challenge. The couple has installed 22 litter boxes in closets throughout the house, each equipped with a ventilating fan that keeps the smell contained.
They also use five Roombas to pick up cat hair daily, along with regular cleaning.
The couple's journey with their cats has not been without its trials. One of their cats, Cookie, was diagnosed with cancer. However, after two major surgeries, the tumors turned out to be benign, and Cookie made a full recovery.
This experience brought immense satisfaction to the couple, reinforcing their commitment to rescuing cats.
The couple admits that initially, they wondered how they could manage so many cats. But now, they can't imagine parting with a single one.
They may not be able to solve the world's problems, but they can provide a loving home for these cats, and that brings them immense joy.
This heartwarming story is a testament to the love and dedication some people have for animals. It shows that with creativity and commitment, it's possible to create a unique and loving environment for pets, even in an ordinary house.
Watch the video here:
The following two tabs change content below.
Lee Harris
NOTE: Some of the content on this website has been created with the use of artificial intelligence (AI). I'm a Brit living in the sunny Canary Islands with my beautiful wife and my wonderful black cat called Coco. I love to blog, build businesses, look after my body, and enjoy nature...
Latest posts by Lee Harris (see all)