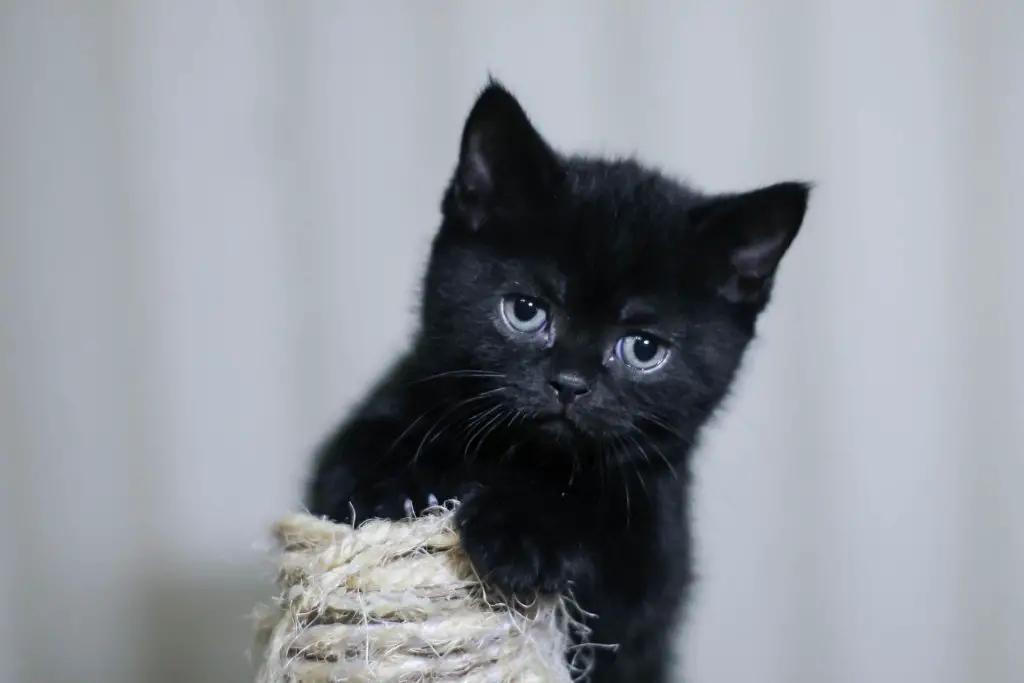 Kittens never fail to melt people's hearts. I'm sure when you say the word cute, many people instantly think of kittens.
The My Mini Panther community is large and full of wonderful people with amazing stories to share about their pets.
I wanted to know if people had their furry friends from a young age so I asked:
"Was your cat a kitten when you got him/her?" here are some of their responses:
"Yep my son found him October Friday the 13th, he was staying." – Desiree L
"Yes they were, they are a pair of bonded brother and sister and are now 9 months old." – Robin H
"Yes all 3 of them were kitties two of them were between 4-6 weeks old and one was 3 months old." – Dwaynewendy B
"One was (she is 7 now) and the other I adopted when her cat guardian my neighbor passed away several years ago.  He is 16 now.  They are best buddies." – Lori C
"Yes, Cinder was rescued from behind a tire machine (age 5 weeks) at the school my husband taught at, and Loki was rescued from the middle of I-75 in SW Fl (age 5 weeks) almost mistaken for a piece of blown tire." Michelle R
"My Oreo was just 6 days old, she's 1 year now 😍" – Maysoun Q
"Yes 6 weeks old – tiny baby 🙂  Grew into a big panther though :-)" – Sonia B
"Yes she was almost 5 weeks old when I got her, now she's 2 yrs old." – Kristina L
"Yup. Luna was 7 weeks when she came home" – Shana D R
"She climbed out of the storm drain onto my patio wall. She knew life would be good with me.💞" Elissa C
"We instantly knew she was meant to be ours –  darling JiJi's online profile pic at the shelter – she looked so sad and frightened we just had to save her.  She is only 2yo  and had been very severely traumatized and is a work in progress. She has been home now 6 months. We just love her to bits!🐾" – Protchard Z P
"Boo is a rescue, she is also a special needs baby and I love her!" – Nic P
"My two mini panthers were 6-month-old kittens at the shelter when I got them." – Lynette N B
"Yes, all 3 of my voids were babies. My oldest was captured by my dog during hurricane Ike in 2008. The next girl is a poly born to a feral Mom at my Dad's in 2013 and my youngest took a ride in the engine compartment of my husband's work car in 2018. I seem to attract Voids." – Dottie B B
"He was very small, they think he was maybe 5 weeks old.  The mother had been killed by a car and they had to break open a barn wall to reach the kittens." – Rie L
"Yes, she was 8 weeks and she's almost 6 years old now" – Robin K
My thoughts
I'm sure you will agree, there are some touching and super cute short stories here.
Bringing a cat of any age into your home is a great thing to do for all involved.
In my experience, having a cat from a kitten gives a certain paternal feeling towards your pet.
We took our black cat called Coco in when he was a kitten. He was just a few months old. 
His mom started to push him away so he could make his own way in life and we took over.
Coco behaves very much like we're his parents and I think having him from such a young age has made a difference.
I saw him on many occasions curled up next to his mom and following her around and he's just the same with us.
I often wake up to find Coco stuck to my side like glue!
I love the fact that we have photos, videos, and stories to tell about Coco when he was a baby. So cute.
Check out my recent blog where I cover people talking about their cat's habits here…
The following two tabs change content below.
Lee Harris
NOTE: Some of the content on this website has been created with the use of artificial intelligence (AI). I'm a Brit living in the sunny Canary Islands with my beautiful wife and my wonderful black cat called Coco. I love to blog, build businesses, look after my body, and enjoy nature...
Latest posts by Lee Harris (see all)